Urgent Care Clinics Near Plantation, FL
Physicians and Medical Staff at Quick Family Urgent Care Offer Immediate Care, Treating Children and Adults. Walk-Ins are Welcome. No Appointment Needed! Open 7 Days a Week. We are only 9 Miles From Plantation FL. Located in Davie FL. See the Map Below, or Call Us.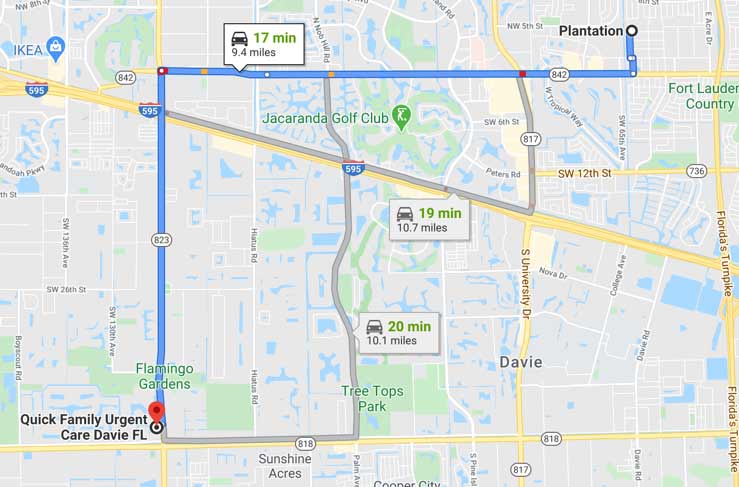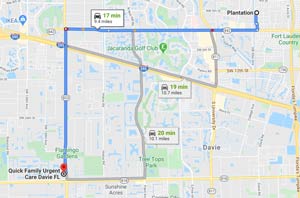 When you come to Quick Family Urgent Care, you'll be greeted by welcoming staff and prompt service. While you're with us, you can expect attentive, affordable treatment. And after you leave our immediate care clinic, you can expect to get better quickly, and we'll be here for you if you need us again.
At Quick Family Urgent Care, we realize that healthcare is also about building trust and relationships with our patients, and we take pride in being an important part of your community. We're happy to help you and anyone else in your family, no matter their age. If you're looking for the finest immediate care doctors in Plantation FL, then you'll find them here at Quick Family Urgent Care.
Is an immediate/urgent care doctor more expensive than a regular doctor visit?
Immediate and urgent care can actually be less expensive than an appointment with your doctor. It depends on who your doctor is, but immediate and urgent care tends to be less expensive, at an average of $100 for a visit (less with insurance; costs may vary, so please call us for more details about pricing). Also, doctors at immediate care clinics are often better equipped to treat a variety of ailments, so it's less likely that you'll have to be referred to a specialist. Additionally, immediate and urgent care can be more convenient. Walk-ins are welcome and wait times are minimal, which isn't the case with regular doctor visits.
Going to the emergency room (ER) is absolutely necessary if your illness or injury is life-threatening. If you are sure that your ailment is not life-threatening, then it can be better to go to an immediate and urgent care clinic. It's much less expensive and much more convenient, especially when you consider that in the ER, patients with a life-threatening condition are prioritized over those without a non-life-threatening condition.
Immediate and urgent care centers accept most major insurance plans. Here at Quick Family Urgent Care, we accept:
AARP
Aetna
Blue Cross Blue Shield
Cigna
Medicaid
Medicare
TriCare
United Healthcare
And more
How much does it cost to go to an immediate care walk-in clinic without insurance?
Even for patients without insurance, immediate and urgent care tends to be less expensive than the alternatives. If you don't have insurance, you can expect to pay about $100 for treatment (costs vary, so call us for pricing details). If the doctor decides that you require more treatment or medication, then this cost could go up or there could be additional costs.
Generally, immediate care and urgent care clinics do not include the costs of prescription medication in their charges. A generic prescription can help to lower the cost of medication for patients without insurance. Please contact us for further details on pricing.
What services are provided at your urgent care/immediate care center?
With Quick Family Urgent Care, our immediate care doctors are able to provide comprehensive service. This means we can diagnose and treat non-life-threatening and common illnesses and injuries, and even some less common ones. All services are provided on-site, and we can even perform x-rays and laboratory testing here. Some of the services we provide include:
Diagnosis and treatment for:

Colds, flu, or respiratory issues
Bronchitis or pneumonia
Minor trauma
Nausea, vomiting, or food poisoning
Allergies or asthma
Skin conditions or infections
Urinary tract infection
STDs
Fractures, sprains, or dislocations
Minor cuts, lacerations, and abrasions

Pediatric urgent care (care for children)
Physical examinations (annual physicals, pre-employment check-ups, etc.)
Employer services (workers' compensation, workers' injury treatment, etc.)
Motor vehicle accident claims
And more
Are there immediate care doctors near me in Plantation, FL?
Yes, there are! Here at Quick Family Urgent Care, you'll find immediate care doctors near Plantation FL, ready to serve you, no appointment necessary. Walk right in for same-day service with us!
We are conveniently located at 4301 South Flamingo Road Suite 102 Davie, FL 33330. We are open 7 days a week, and Monday to Friday, we are open from 8 am to 8 pm, and Saturday and Sunday, we're open 9 am to 5 pm. You can call us at (954) 640-1200 to learn more about our pricing or services, or to make an appointment, if you like.
We look forward to your visit here at Quick Family Urgent Care!