Walk In Clinic Near Plantation FL
Fast & Affordable Walk-in Service. We are a Full Service Urgent Care. All Major Insurance Plans are accepted. No Appointments Needed. Open 7 Days a Week. We are only 9 Miles From Plantation FL. Located in Davie FL. See the Map Below, or

Call Us

.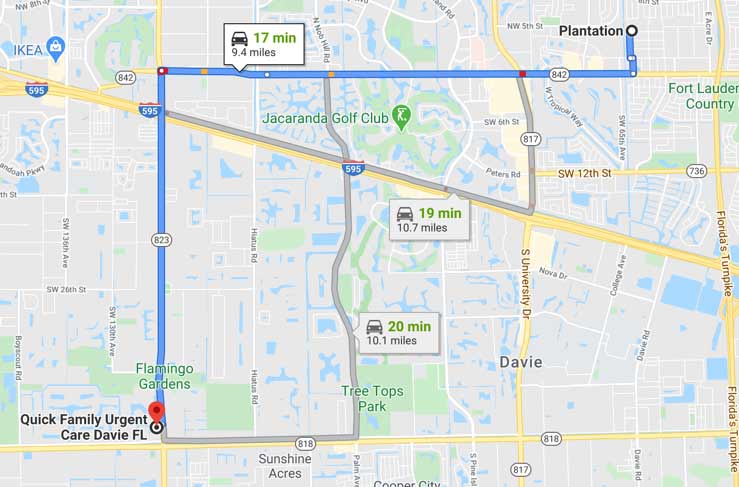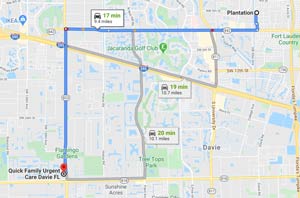 From treating painful bug bites to uncomfortable back pain, your family's health is in great hands at Quick Family Urgent Care and Walk-in Clinic near Plantation, FL. Our urgent care professionals know that sustaining a last minute injury or illness can be both stressful and painful, which is why we offer walk-in medical services every day of the week during flexible hours. Our team is made up of experienced and knowledgeable medical professionals who have been providing urgent care services to patients of all ages for years. We are centrally located near Plantation, and can provide our walk-in urgent care services to the surrounding neighborhoods as well. Whether you or a loved one is suffering from a cut or a bad case of the cold, our doctors, nurses and technicians will work with you to find the best treatment solution in a timely manner.
When most families experience an urgent care setback at home or outdoors, they immediately rush to the nearest hospital for fast medical treatment. Unfortunately, going to the hospital for fast care is not often the best choice, as there can be a waiting room full of other patients as well. For fast and attentive care in the Plantation area, Quick Family Urgent Care offers the convenient alternative of walk-in medical services throughout the year. We know that dealing with a last minute urgent care setback can be exhausting and stressful, which is why we help cut down on the extra time spent at the doctor's office. When you and your family walk into Quick Family Urgent Care, our team of urgent care professionals can provide you with timely diagnostic tests and effective treatment solutions. Our physicians are Board Certified and have years of experience when it comes to providing top quality emergency medicine and pediatric care, all in the comfort of our state of the art clinic near Plantation, FL. If you are looking for a reliable and accessible physician nearby, then walk into Quick Family Urgent Care today.
In addition to our great team of physicians and medical professionals, Quick Family Urgent Care offers a wide range of walk-in urgent care services. From last minute physicals to providing x-rays for a sprain or break, our team has you covered for a variety of illnesses and injuries. We can help with dermal infections, as well as cold and flu symptoms, and promise friendly and comprehensive urgent care services at our walk-in clinic. If you have any additional questions about the services that we provide at Quick Family Urgent Care or our team, we welcome you to give us a call today or walk in today for fast and top quality medical care.
Quick Family Urgent Care is open every day of the week during extended hours and we have medical professionals on site who can see to your medical needs immediately- no appointment required! Our team looks forward to helping your family feel happier and healthier soon.