Immediate Care Clinics Near Pembroke Pines, FL
Doctors at Quick Family Urgent Care Offer Immediate Care Treating Children and Adults. Walk-Ins are Welcome. No Appointment Needed! We are 5.3 Miles From Pembroke Pines. Located in Davie FL. See the Map Below, or Call Us.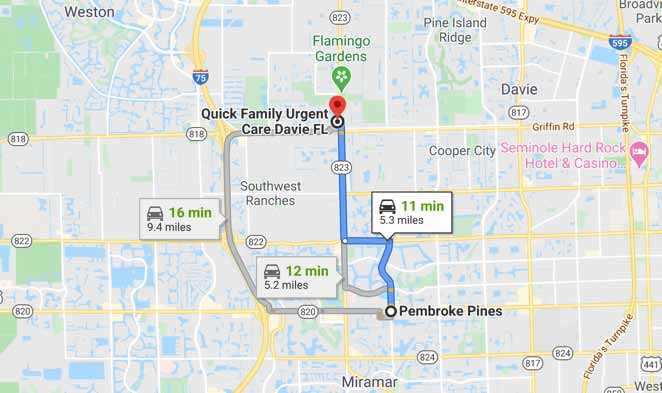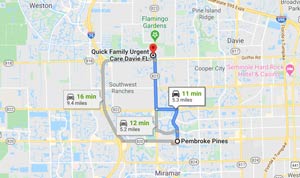 We hope you'll choose Quick Family Urgent Care for quick, convenient care for you and your family. We take care of patients of any age, from toddlers to elders, and we provide diagnoses and treatments for just about every common ailment out there. Families throughout the Pembroke Pines community have trusted us for many years now. We believe we can earn your and your family's trust too.
Our business is making sure you and yours have access to attentive, affordable healthcare anytime you need it. With us, you'll find the finest immediate care doctors in Pembroke Pines FL, and affordable services for the whole community.
Will an immediate/urgent care doctor be more expensive than a regular doctor?
Actually, it's more likely that immediate and urgent care will be less expensive than a trip to the doctor. Immediate and urgent care costs about $100 per visit, not including insurance coverage (costs may vary, so please contact us for more information on pricing).
Immediate and urgent care also tend to be especially convenient because you can simply walk right in for service and receive it right away. If you make a doctor's appointment instead, you might have to schedule for weeks ahead and then wait for an hour in the waiting room.
As for insurance coverage, immediate and urgent care clinics, like Quick Family Urgent Care, typically accept AARP, Aetna, Blue Cross, Cigna, Medicaid, Medicare, TriCare, United Healthcare, and other major insurances. Please contact us if your insurance provider is not on the list; we will likely still be able to cover you.
How much will it cost to go to an immediate care walk-in clinic with no insurance?
If you don't have insurance, you can still receive service at immediate care clinics! It can still be less expensive than going to see your doctor. You'll likely spend about $100 for services (costs vary, so please contact us for more information on pricing). Additional treatment or any prescription medication you require can affect this cost or result in additional costs.
If you have no insurance and require a prescription, then request a generic and non-brand prescription. These prescriptions are typically less expensive. You'll be able to pay for and pick up your prescription at your local pharmacy.
What services do urgent care/immediate care centers provide?
Immediate and urgent care centers are able to provide treatment for non-life-threatening illnesses and injuries only. If you believe your injury could be life-threatening, then it is absolutely necessary that you call 911 to receive emergency service.
Here at our clinic, we can diagnose and treat common ailments such as colds, flu, minor respiratory issues, bronchitis, pneumonia, nausea, food poisoning, allergies, asthma, skin conditions, skin infections, urinary tract infections, STDs, minor fractures, sprains, dislocations, minor cuts, minor abrasions, and others.
We can also offer x-rays and lab tests for more precise diagnoses when necessary. Additionally, we are able to provide pediatric urgent care, physical examinations of any kind, employer services such as workers' comp, motor vehicle accident claim services, and other services.
How can I find immediate care doctors near me in Pembroke Pines, FL?
Come to Quick Family Urgent Care! We have immediate care doctors near Pembroke Pines who are standing by, ready to serve you and your family. Appointments are not necessary, walk-ins are welcome. Our clinic is at 4301 South Flamingo Road Suite 102 Davie, FL 33330.
We are here 6 days a week for your convenience, with extended hours on weekdays. We're open Monday to Friday, from 8 am to 8 pm, Saturday and Sunday from 9 am to 5 pm. Call us at (954) 640-1200 for more information. We look forward to seeing you soon here at Quick Family Urgent Care!